Kayaking Spring Creek with the Mach One Slalom Team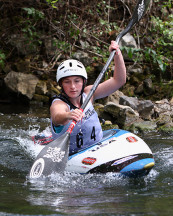 Families planning on visiting Centre County should check out the workings of the Mach One Kayak Slalom Team. Their website has information on training programs available for kids and adults alike, with the youth starting at 8-10 years. You can also like them on Facebook.
The Team has a working training site on Spring Creek at the Sunnyside Paddling Park. It consists of 30 odd slalom gates hanging from wires stretched across an easy rapid stretch of the creek. Kayakers and Canoeists paddle through a complex placement of the gates that stretch their paddling skill. Skills include the performance of various paddling strokes and the timing used in negotiating the complex paddling course.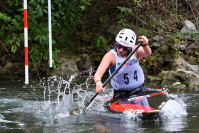 Top men and women have trained at Sunnyside Paddling Park before obtaining podium medals in United States National, World, and Olympic contests. Currently, the Team trains there Monday through Friday from 4:00 pm 'til dark through December and even partially in January. Racing events are held in Sunnyside on an impromptu basis, but especially in August and October on weekends. Check with the Visitor Center for dates.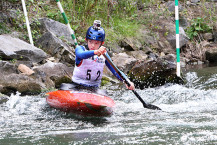 Pictured: Evelyn Van Horn is currently a member of both the USA National Slalom Team and the USA National Junior Slalom Team in the women's kayak singles class. She was third at the 2012 National Championships and placed 31st at the 2013 World Junior Championships. She recently obtained recognition as the 2013 recipient of the Jonathon March Paddling Award for women at the Lehigh Valley fall slalom.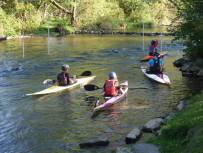 Sarah Mosier is currently a member of the USA National Junior Slalom Team in the women's canoe singles class. She was second at the 2013 National Championships despite being only a junior paddler.
Alden Henrie, 12, training at the Sunnyside Park. Henrie places high in junior events in both the singles kayak and canoe events.
A general view of the slalom gates at the Sunnyside Paddling Park where Mach One trains and develops competent national paddlers.